#Ayotzinapa, origen y evolución del movimiento social mexicano en Twitter
Rocío Abascal Mena

Universidad Autónoma Metropolitana – Cuajimalpa, México
Palabras clave:
Redes sociales, Twitter, popularidad, correlación
Resumen
México se consternó una vez más en septiembre de 2014 tras la noticia de los desaparecidos de Ayotzinapa –43 de ellos–, todos de la Escuela Normal Rural del Estado de Guerrero, al sur de la Ciudad de México. Las redes sociales, ya utilizadas en movimientos como #YoSoy132, fueron testigos del reclamo de los mexicanos. Siendo Twitter la red más utilizada para manifestar el reclamo de los usuarios al Gobierno Mexicano porque los devolvieran vivos. En este artículo, mostramos el resultado del estudio de un amplio corpus de tuits #Ayotzinapa en torno a la tragedia. Asimismo, estudiamos en particular las etiquetas constitutivas del joven género discursivo, cuyo anonimato, minimalismo y velocidad comunicativa, pueden revelar algunas facetas de las críticas más fuertes hechas al gobierno. Nuestra hipótesis se basa en que a partir de la popularidad en el uso de hashtags asociados hay una evolución de estos con el fin de llegar a una mayor audiencia. Nuestras conclusiones muestran que es necesaria una transformación de las etiquetas, con el paso del tiempo, para permanecer en la red social.
Citas
1. Tumasjan A, Sprenger TO, Sandner PG, Welpe IM. Predicting Elections with Twitter: What 140 Characters Reveal about Political Sentiment. International AAAI Conference on Weblogs and Social Media, Washington DC: George Washington University; 2010.
2. Cunha E, Magno G, Comarela G, Almeida V, Gonçalves M A, Benevenuto F. Analyzing the dynamic evolution of hashtags on twitter: a language-based approach. Proceedings of the Workshop on Language in Social Media. Portland: Association for Computational Linguistics; 2011.
3. Romero D, Meeder B, Kleinberg J. Differences in the mechanics of information diffusion across topics: Idioms, political hashtags, and complex contagion on Twitter. 20th International World Wide Web Conference. Hyderabad: ACM; 2011.
4. Chew C, Eysenbach G. Pandemics in the age of Twitter: Content analysis of tweets during the 2009 H1N1 outbreak. PLoS ONE. 2010; 5(11): 1-13.
5. Barbosa GAR, Silva IS, Zaki MJ, Meira Jr. W, Prates RO, Veloso A. Characterizing the effectiveness of twitter hashtags to detect and track online population sentiment. Proceedings of the 2012 ACM annual conference extended abstracts on Human Factors in Computing Systems Extended Abstracts. Austin: ACM; 2012.
6. Zappavigna M. Ambient affiliation: A linguistic perspective on Twitter. New media & society, 2011; 13(5): 788-806.
7. Bruns A, Burgess JE. The use of Twitter hashtags in the formation of ad hoc publics. 6th European Consortium for Political Research General Conference. Reykjavik: University of Iceland; 2011.
8. FactoryCity. 2007 Aug 25 [cited 2015 July 10]. In: Twitter Hashtags for Emergency Coordination and Disaster Relief [Internet]. Available from: http://factoryjoe.com/blog/2007/10/22/twitterhashtags-for-emergency-coordination-anddisaster-relief/
9. Hyland K, Tse P. Metadiscourse in academic writing. Applied Linguistics. 2004; 25(2): 156-177.
10. Crismore A, Markannen R, Steffensen M. Metadiscourse in persuasive writing: A study of texts written by American and Finnish university students. Writ Commun. 1993; 10(1): 39-71.
11. Russell A. The Arab Spring Extra-National Information Flows, Social Media and the 2011 Egyptian Uprising. International Journal of Communication. 2011; 5: 1238-1247.
12. Poell T, De Kloet J, Zeng G. Will the real Weibo please stand up? Chinese online contention and actor-network theory. Chinese Journal of Communication. 2014; 7(1): 1-18.
13. Gitlin T. The whole world is watching: mass media in the making & unmaking of the new left. London: University of California Press; 2003.
14. Georgakopoulou A. Narrative analysis and computer-mediated communication. In: Herring S, Stein D, Virtanen T. Pragmatics of Computer-Mediated Communication. Berlín: Illustrated; 2013.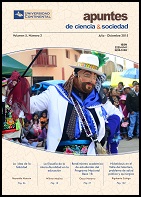 Cómo citar
Abascal Mena, R. (2015). #Ayotzinapa, origen y evolución del movimiento social mexicano en Twitter. Apuntes De Ciencia & Sociedad, 5(2), 357 - 364. https://doi.org/10.18259/acs.2015051
Sección
Artículos de investigación